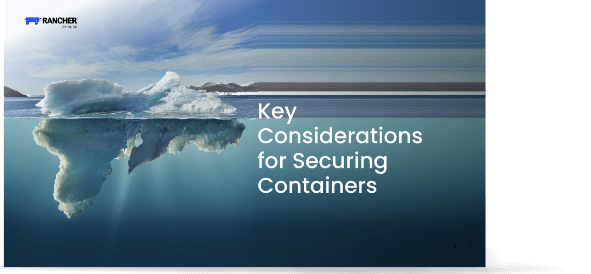 Key Considerations for Securing Containers and Kubernetes Environments
A secure container supply chain enables organizations to build, iterate and scale applications rapidly while minimizing risk. Yet building that security strategy is not an easy feat, requiring a holistic approach encompassing technology, processes and people. In this eBook, we discuss:
The complex challenges inherent in modern software pipeline
The 3 critical areas to address when building your container supply chain security strategy
How to choose the right technologies and technology partners to ensure success
Get the eBook Now
Deciphering Container Complexity from Operations to Security
Kubernetes has driven seismic influence across the rapidly changing cloud native ecosystem. As adoption grows, and new features and tools emerge, so does the complexity of management and security. The key to building a sustainable, resilient Kubernetes supply chain is by striking the right balance between technology, processes and people.
Learn More

Case Study
TrueLayer Spearheads the Open Banking Revolution with Kubernetes and Rancher Prime
TrueLayer, a pioneer in open banking and Europe's leading provider, experienced a 40% reduction in cluster maintenance time, freed their developers of tedious, manual processes and accelerated update cycles after deploying Rancher Prime.

Guide
Best Practices for Securing Kubernetes Environments
Learn how to avoid security missteps and misconfigurations that leave your organization vulnerable to attacks by implementing these effective security practices.
Alison Johnston, CTO of Cardano
"Everyone's done the 'hello world' foray into containers, but when it actually comes to production and release, it's a different beast. Rancher Prime is a really nice solution that fills all the gaps that you discover when deploying containers to production."